Hi friends, happy Friday! Today I've got my Urban Decay Naked Ultraviolet palette review and swatches to share with you. I've been a die hard Urban Decay fan for about a decade now. I've been waiting for them to release a purple eyeshadow palette. And, unfortunately for me, this one falls short of my expectations. In fact, both the Naked Ultraviolet and Wired palettes left me feeling sad. The Wired palette pigmentation was awful by my standards, and terrible when compared to my beloved Urban Decay Electric palette. Ultraviolet leaves me feeling the same way.
Urban Decay eyeshadow singles, in general, have an amazing eyeshadow formula for me. They're pigmented, easy to apply and last all day on primer on my hooded eyes. I don't feel like the Naked Ultraviolet palette is the same pigmentation and formula as the UD singles, hence part of my disappointment. The other main part of my disappointment is Urban Decay's refusal to make a true purple palette. Instead we end up with a palette that is half neutrals, half purple-ish, with poor pigmentation.
Urban Decay sent me this palette to review as a pr sample. All opinions, as always, are my own.
Where to Buy
Urban Decay, Sephora, Ulta
Price
$49
Urban Decay Naked Ultraviolet Palette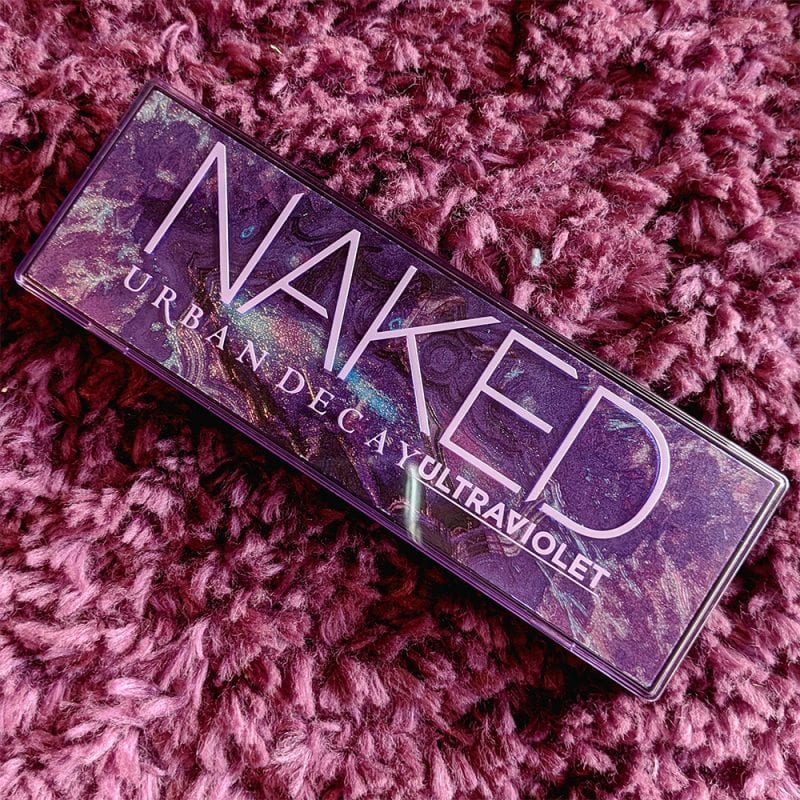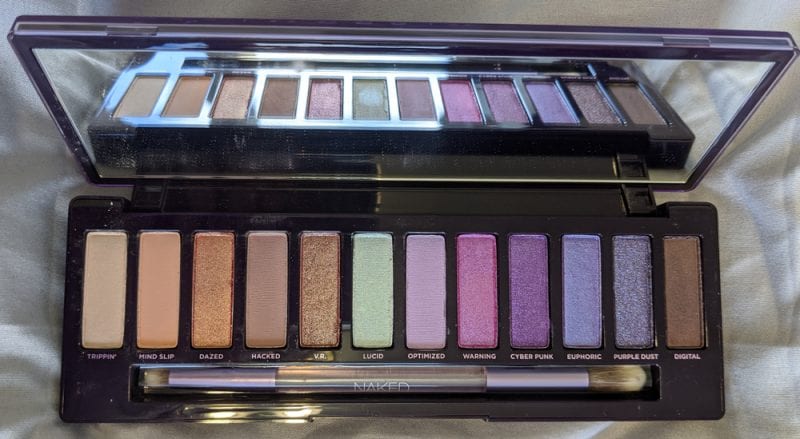 As far as I could find, there were no official shade descriptions for the colors in this palette. I found that to be a tad disappointing, as Urban Decay usually provides this information on their website.
Urban Decay Naked Ultraviolet Palette Swatches
My swatches are on Urban Decay Primer Potion.
Left side – Right Side
Lucid – Optimized
Warning – Cyber Punk
Euphoric – Purple Dust
V.R. – Trippin'
Mind Slip – Dazed
Hacked – Digital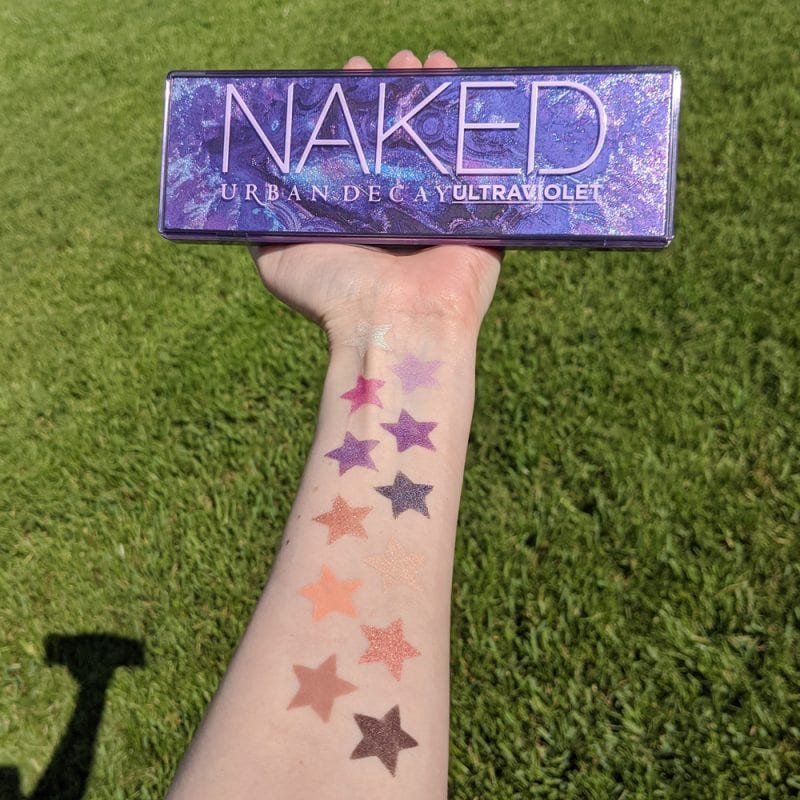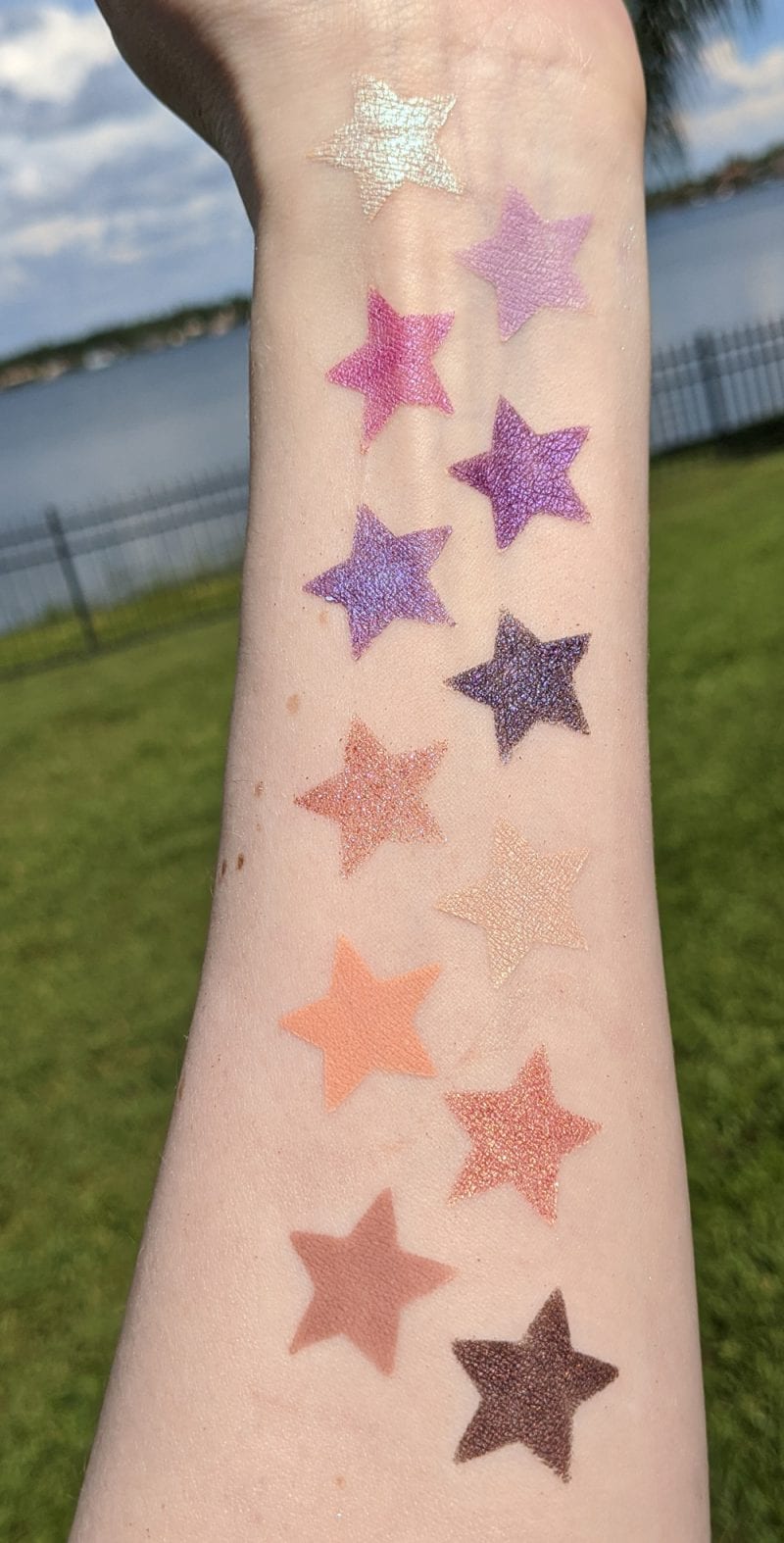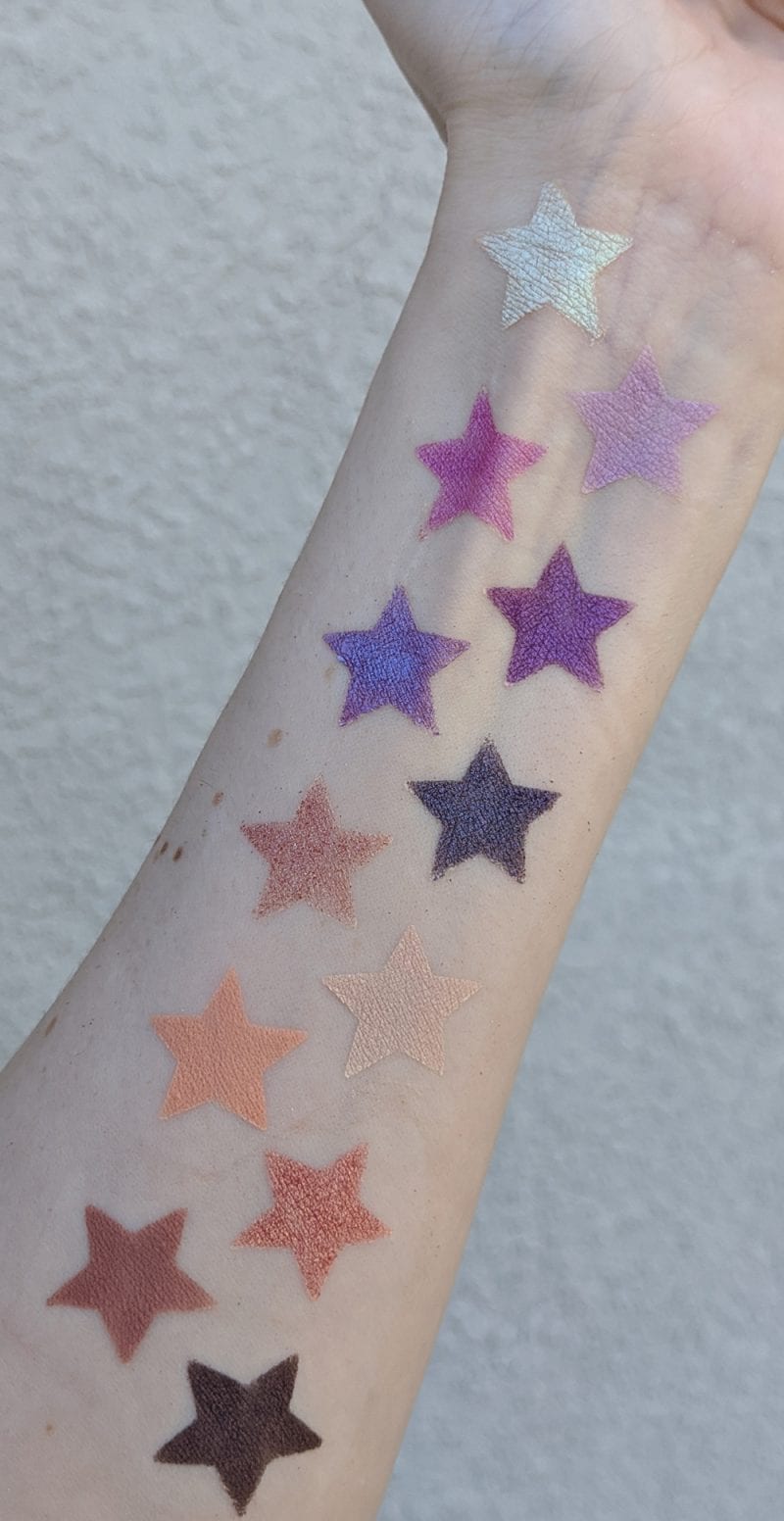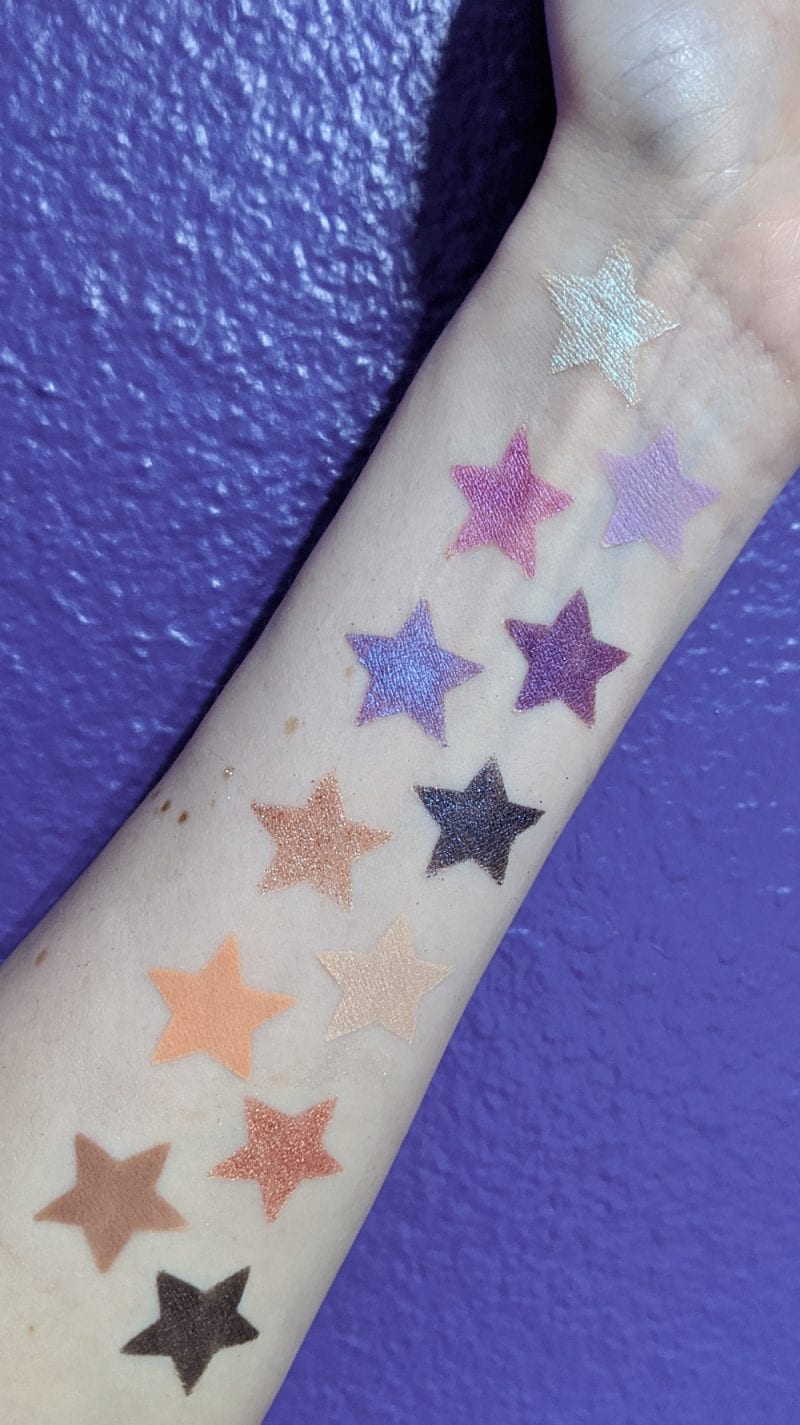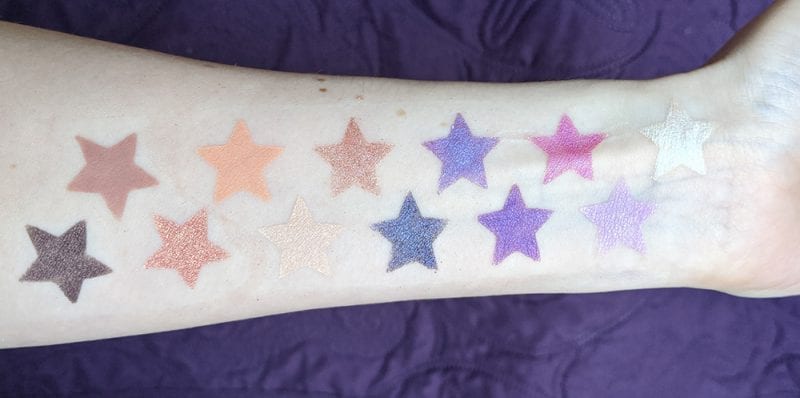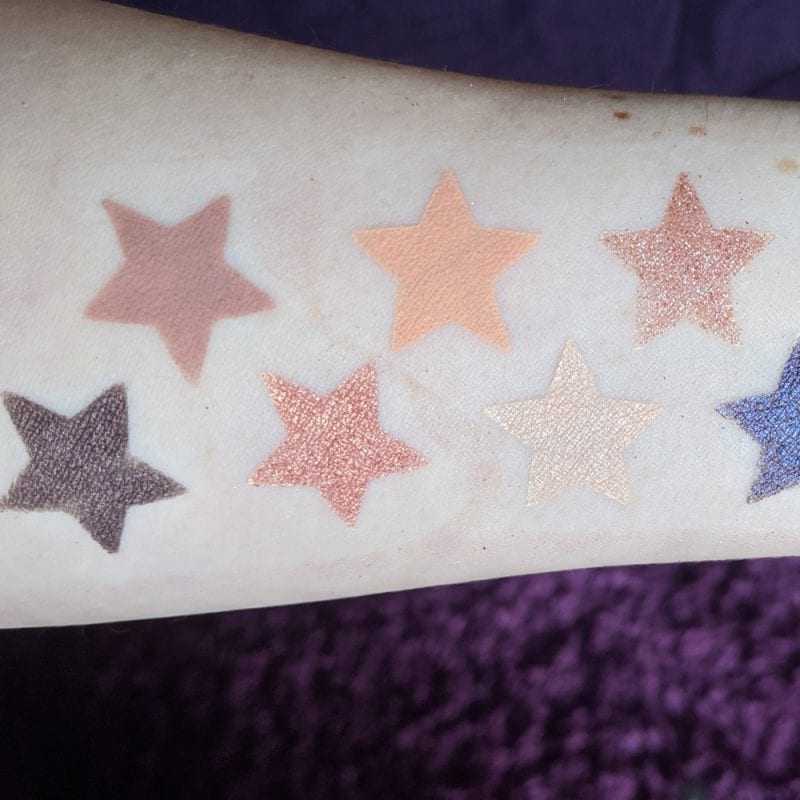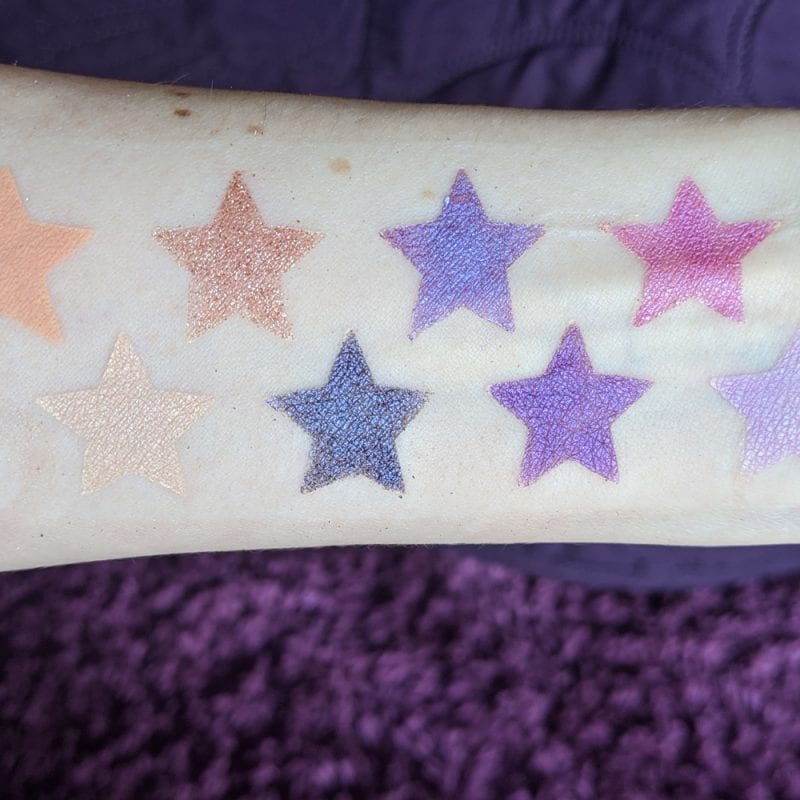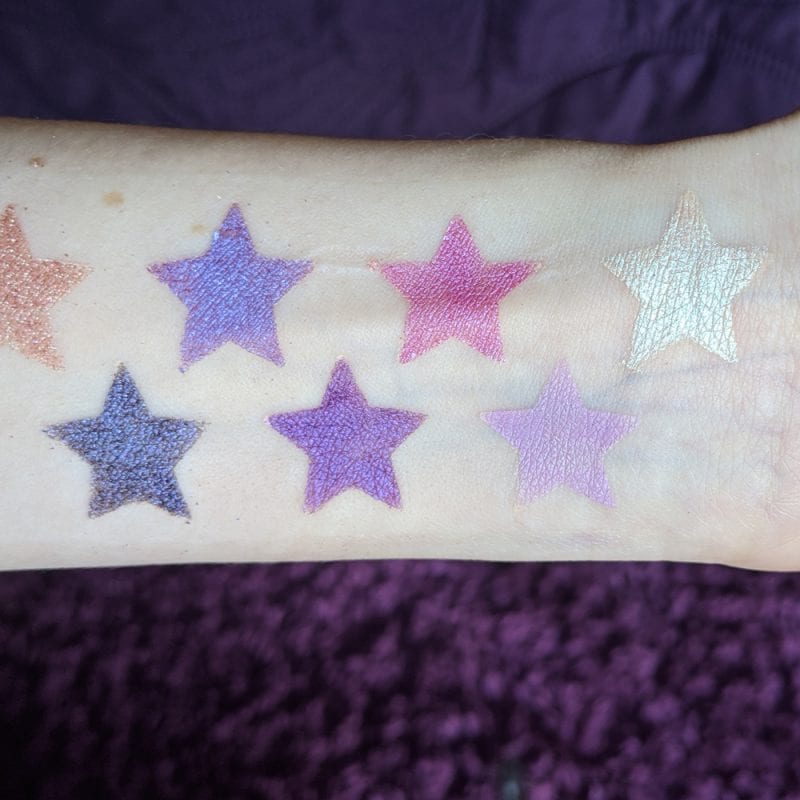 Two Urban Decay Naked Ultraviolet Palette Looks
I applied these looks on top of eyeshadow primer that I set with a setting powder.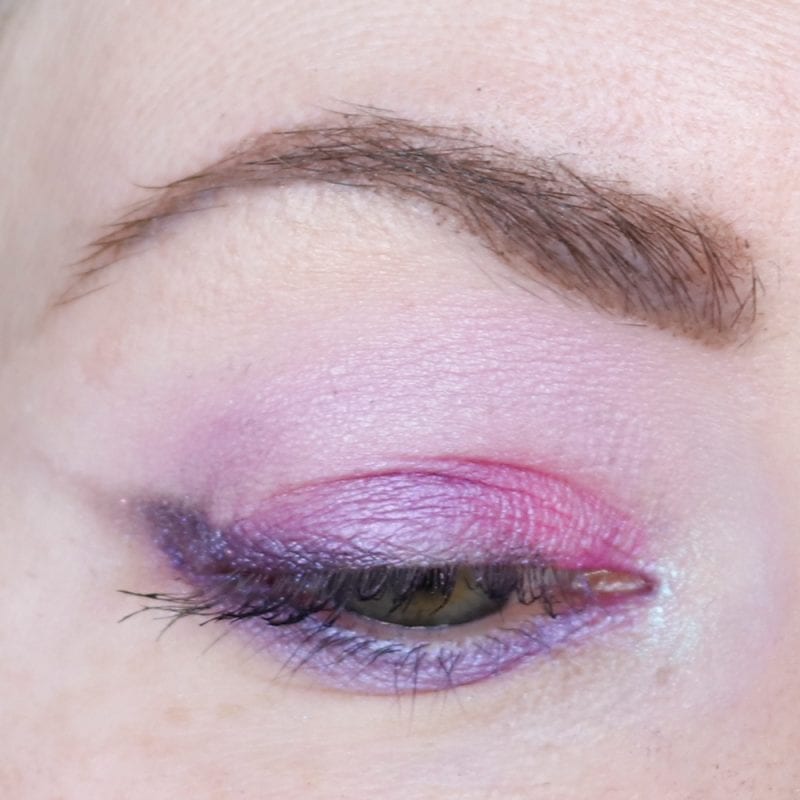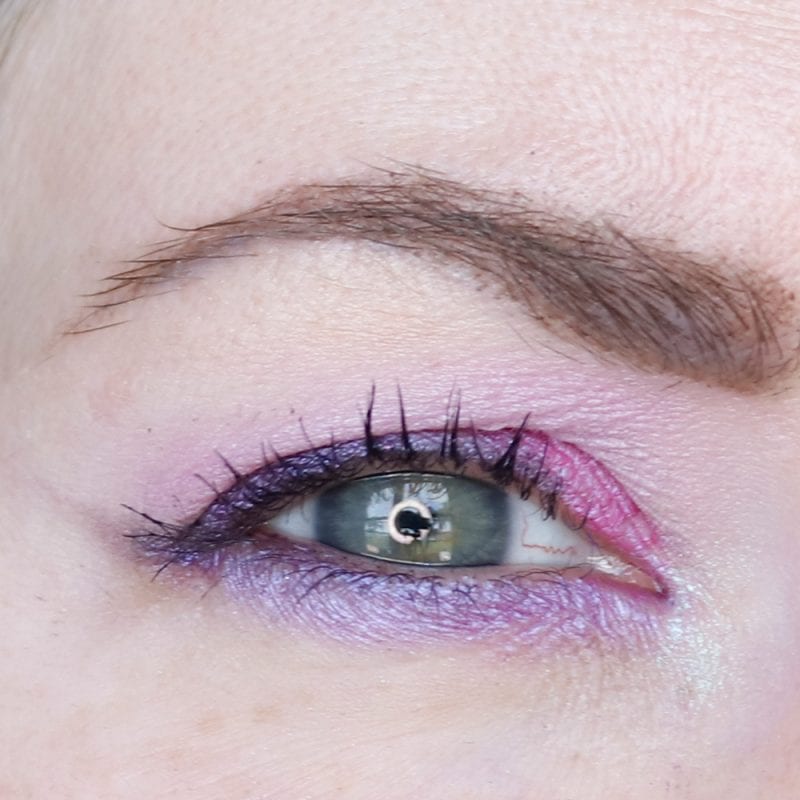 This is the quick purple look I put together with this palette to share with you. The pigmentation is AWFUL to work with in my opinion.
Here's what I used:
Optimized all over the lid and crease.
Warning at the inner lid.
Cyber Punk at the outer lid.
Euphoric at the lower lid.
Purple Dust as liner.
Trippin' to highlight under the eyebrow.
Lucid to highlight at the inner corner.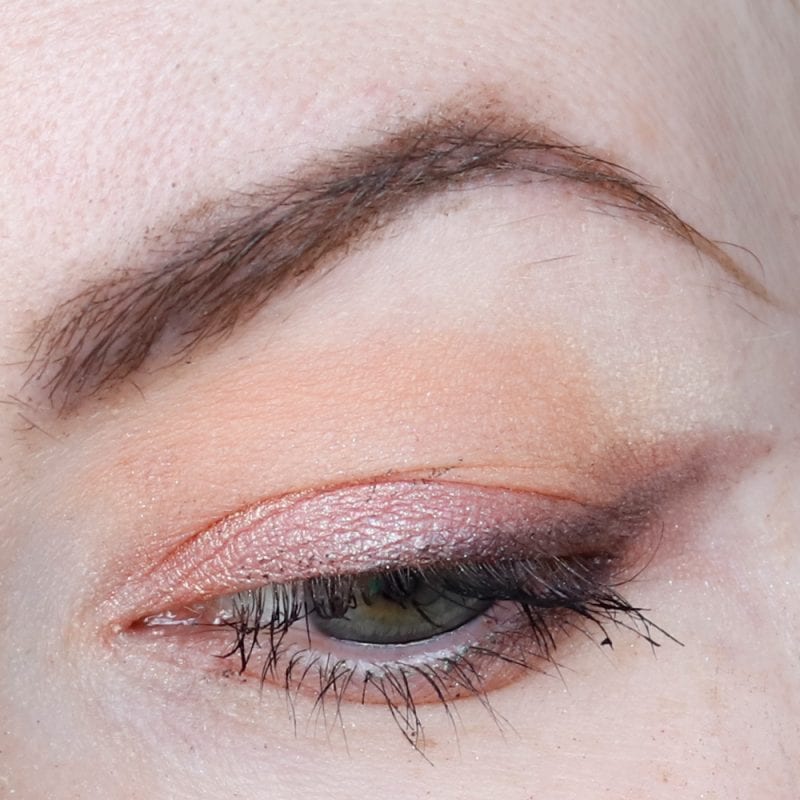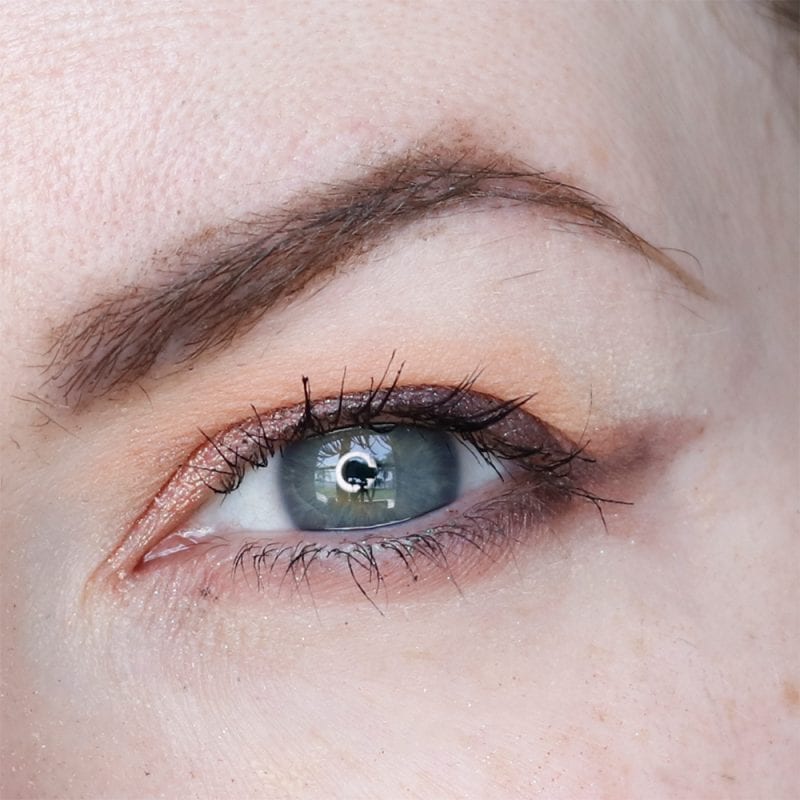 Here's what I used for the quick peach look:
Dazed at the inner lid.
V.R. at the outer lid.
Mind Slip for the crease.
Hacked for the lower lid.
Digital as liner.
Again, these shadows did not have good pigmentation. It took forever to build them up for the swatches and for my looks.
My Shade Descriptions for UD Naked Ultraviolet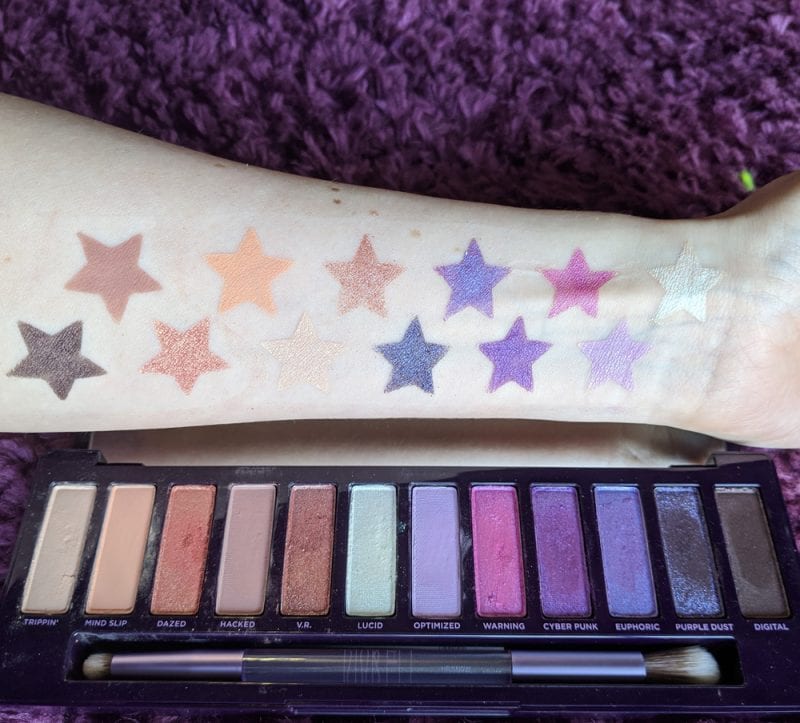 Lucid – iridescent turquoise green shimmer (nice as a highlight)
Optimized – soft pastel purple matte (theoretically great as a transition shade on me)
Warning – magenta with a blue purple shift shimmer (reminds me of UD 1985)
Cyber Punk – purple with blue purple shift shimmer (reminds me of UD Vice)
Euphoric – midtone purple with blue purple shift shimmer (reminds me of UD Tonic)
Purple Dust – blackened purple with blue purple shift shimmer (nice as a liner)
Trippin' – soft pastel peach satin (ok as a highlight)
Mind Slip – light peach matte (reminds me of ABC Gum, theoretically works as a transition for me)
Dazed – peach orange with gold shimmer (reminds me a bit of Sugarpill Kitten Parade)
Hacked – soft brown matte (theoretically nice as a crease or transition shade on me)
V.R. – soft peachy brown base with iridescent turquoise green shimmer
Digital – cool-toned blackened brown with brown shimmer (nice as a liner)
See the DIY Urban Decay Purple Palette I built. Or if you're wanting to just dip your toe into purple with Urban Decay, see the On the Run Bailout Palette.
Or if you're interested in going the indie route, Silk Naturals has dupes for many of these colors! They are pigmented, high quality, hand made indie eyeshadows. While they are loose, Silk Naturals sells a pressing medium and you can turn them into pressed eyeshadows.
Naked Ultraviolet Review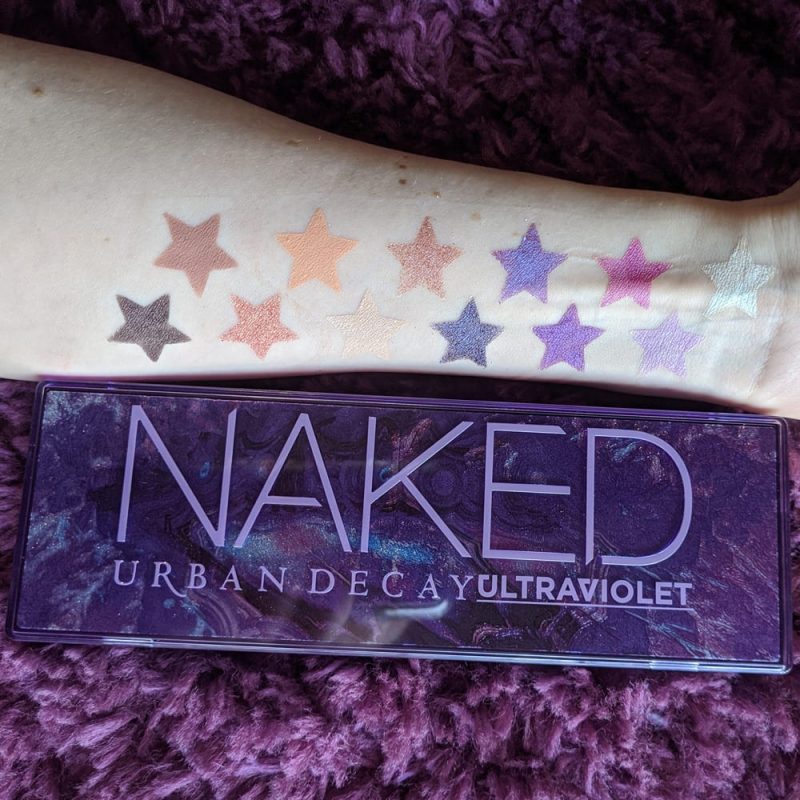 After waiting nearly a decade for Urban Decay to create a purple eyeshadow palette, I'm deeply disappointed in Naked Ultraviolet so many ways. First, the pigmentation in this palette is awful. I had to work so hard to get it to show up on my eyes. It swatched better than it performed for me, no matter what eyeshadow primer I tried. I tried Urban Decay Primer Potion, Too Faced Shadow Insurance, and Elizabeth Mott Eyeshadow Primer. The pigmentation is just not there. Second, but related, the formula is awful. It started to fade almost immediately on me after application. This is probably because I have hooded eyes and the 'hood' of my skin rubs together, making it rub away into nothing despite primer. The purples barely showed up on me.
Third, I wanted a true purple palette. I wanted all purples, or at least purples paired with neutrals that have a purple undertones, like a purple taupe. UD Tease from the permanent lineup would have been great. Instead, we've got a half warm, half purple palette. It's not groundbreaking or new. It doesn't perform well.
I do want to say that I love the packaging. That's about the only nice thing that I can say about the Naked Ultraviolet palette.
At this point, I feel like Urban Decay has ridden the Naked train into the ground. This Naked Ultraviolet palette was a flop for me, just like the Wired was for me. I had such high hopes from the promo shots. I don't understand why Urban Decay took their amazing singles eyeshadow formula and threw it out the window for this palette.
Real talk time. I'm exhausted, friends. I'm sick of eyeshadows not being made to perform well on hooded eyes like mine. I'm sick of me having to use eyeshadow primer, setting powder, and still not getting good results with products despite the extra money, time and energy I put into them.
I do not recommend the Urban Decay Ultraviolet palette. I don't feel like the Urban Decay quality or pigmentation is there. I've seen drugstore eyeshadow palettes perform better than this one did. UD Ultraviolet is a lackluster palette and a disappointing installment in UD's line up.
But that's just my opinion. What's your opinion on this palette? Is it a must have or miss?