There is just something so fun about trying to make our favorite Asian inspired foods at home. We love our Beef with Broccoli Stirfry, Mongolian Beef & Broccoli, Sweet & Sticky Chicken Drumsticks, Rainbow Chicken Fried Rice, Pineapple Chicken Satay, Asian BBQ Brisket Tacos and our Ramen Noodles Recipes. If you are a pasta lover searching for a easy soba noodle recipe, soba noodles with broccoli, what can you make with soba noodles, simple soba noodles  or even pan fried soba noodles, then our soba stir fry recipe is exactly the recipe you need. We hope that you love this Chicken and Soba Noodle Stir Fry recipe.
Chicken and Soba Noodle Stir Fry
Ingredients
1 package of soba noodles
1 can of water chestnuts
1.5 cups of fresh pea pods
small head of broccoli (thin slice the stock as well as using the tops)
a few mushrooms
1 small onion
1 carrot sliced super thin (I use the peeler instead of a knife)
1 pound of cooked chicken, chopped ( we cook it with a little soy sauce)
soy sauce to taste
Directions
Start with all of your ingredients, washed, dried, sliced, chopped and or diced. You can cook your chicken in the wok at the same time or if you have leftover cooked chicken you can use this as long as it isn't seasoned.
Over medium heat, toss the chunks of chicken onion and mushrooms into the wok along with a little olive oil and some soy sauce.
In a separate pot, boil your soba noodles on the slightly al dente side and set aside while cooking the rest of the stir fry.
When the chicken is about half way cooked through add the pea pods, water chestnuts, thin sliced broccoli stock, thin sliced carrots and broccoli crowns into the wok and add a little more soy sauce. Cook until everything is just cooked through and then remove from the heat to avoid things from over cooking. Toss the soba noodles in the wok with everything else and serve right away.
For a fun twist or variation
Leave out the chicken for a soba noodles stir fry vegetables; substitute 1 lb of grilled pork for a pork and soba noodles stir fry; switch out that chicken for shrimp for a soba noodles shrimp stir fry; and finally, instead of chicken, use 1 lb of thinly sliced teriyaki/soy sirloin for a beef soba noodle recipe.
Whether you needed an easy soba noodle recipe, asian stir fry noodles and vegetables, 10 minute noodles, what to cook with soba noodles or even soba stir fry, our soba noodle stir fry recipe will not disappoint. We hope that you are inspired by this Chicken and Soba Noodle Stir Fry recipe. Happy cooking!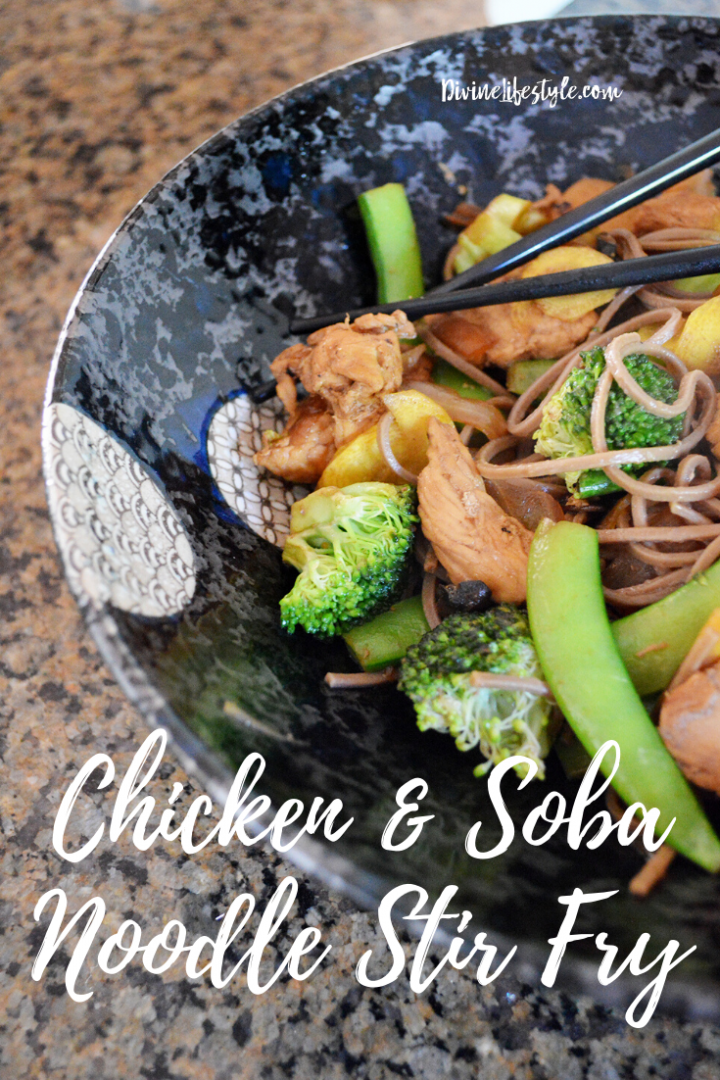 You May Also Like