There is something so fun and hearty about this dinner recipe. We used frozen fries for this variation but you can absolutely use tortilla chips if you prefer. My family likes to switch it up. What I especially love about this recipe is how easy it is to make changes based on preferences. We sometimes do half with no meat for my daughter.  If you are searching for how to make pork nachos, homemade pulled pork nachos recipe, easy bbq nachos or even loaded pork nachos, then our bbq pork nachos recipe is exactly the best pulled pork nachos recipe you need. We hope that you love this BBQ Pulled Pork Nachos Recipe.
BBQ Pulled Pork Nachos Recipe
Ingredients
2 cups pulled pork
1 pkg frozen fries OR enough tortilla chips for 2-3 layers
1/4 cup shredded red cabbage
4 tbsp chopped green onions
2 cups shredded cheese
1/4 cup BBQ sauce
1/4 cup greek yogurt
1/4 cup honey mustard
fresh cilantro for garnish
Directions
Cook fries per package instructions.
While fries are cooking, prepare ingredients. Chop green onion, cilantro and red cabbage and set aside.
Once fries are cooked, add pulled pork and cheese and place back into oven for 5-7 minutes.
Remove from oven. Add green onion and red cabbage.
Drizzle bbq sauce, Greek yogurt, and honey mustard generously on top.
Top with fresh chopped cilantro. Serve immediately.
No matter how you make these nachos, they will certainly be a hit with friends and family. We sometimes have to double our batch when we have guests. Whether you needed best pork nachos recipe, how to make pulled pork nachos, homemade bbq nachos recipe, what goes on bbq nachos or even pulled pork for nachos recipe, our shredded pork nachos recipe will not disappoint. We hope that you are inspired by this BBQ Pulled Pork Nachos Recipe. Happy cooking!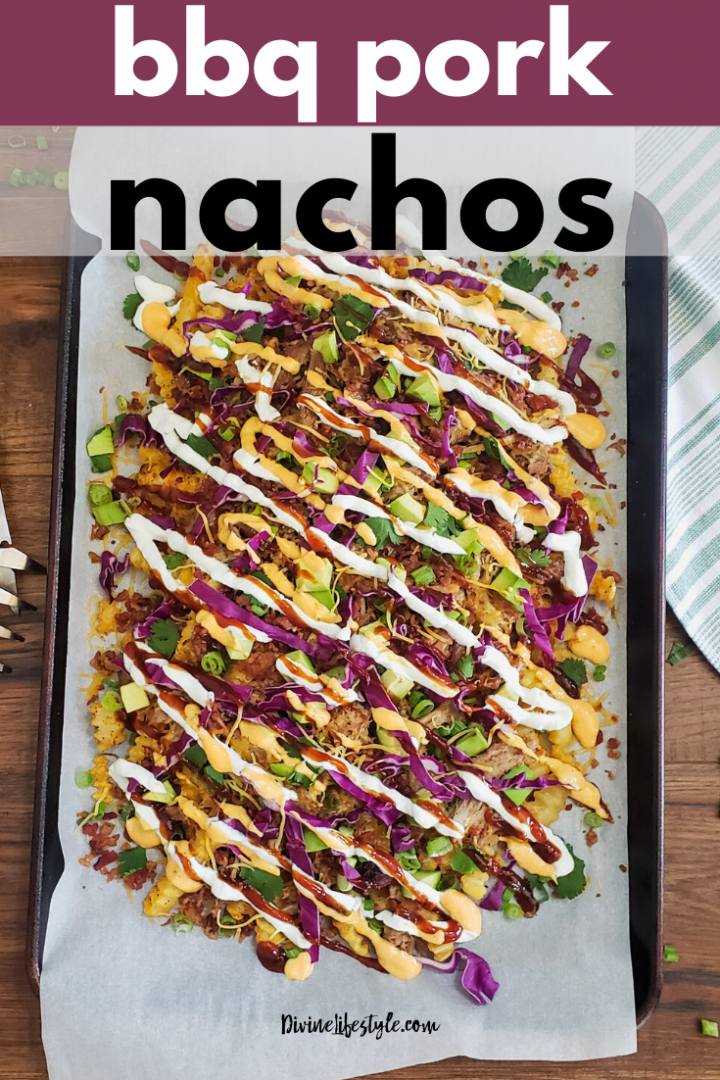 You May Also Like