Lip Glosses all seem to claim to be the best at delivering a super shiny, super sleek lip look. Even so, finding a gloss that actually lives up to its advertising can be tricky. Instead of spending hours scouring the aisles of the beauty section for a good lip gloss, read the list below for a list of some of the best, shiniest options or the Best Shiny Lip Glosses. We hope that you love these 6 Best Lip Glosses for Extra Shine. 
6 Best Lip Glosses for Extra Shine – Best Shiny Lip Glosses
Revlon Super Lustrous Lip Gloss
For its price, this Revlon Super Lustrous Lip gloss really packs a punch. Its ultra-shiny formula is non-sticky and will leave your lips feeling soft and moisturized. The line features about fifteen different shades, so you'll be able to choose from a modest light pink to a bold dark cherry color. This is a great gloss to swipe on over your favorite lipstick to give it a killer shine. For anyone looking for an affordable, dewy, classy lip gloss, this Revlon product should be your new go-to.
Glossier Lip Gloss
The classic Glossier Lip Gloss is said to be like glass on your lips. The cruelty-free and vegan formula is made with vitamin E and jojoba oil to keep your lips soft and supple throughout the day. It is long-wearing, so you shouldn't have to reapply, making it a great choice for people on the go. Three shades are available- red lipstick, a great option for those looking to make a statement, clear, which is perfect to layer with other lip products or give the lips a shiny, colorless pop, and holographic, which will give an exciting and modern shine to your look. The fuzzy applicator makes it easy to swipe on the perfect amount, and the adorable packaging makes this product even better. 
Lancome Juicy Tubes
Throw it back to the early 2000s with a Lancome Juicy Tube. This line of lip glosses comes in a huge variety of colors, ranging from dark purple to bubblegum pink. Not only do the Juicy Tubes come in a range of colors, but they also have flavors unique to their shade. The product claims to be long-wearing and super hydrating. Plus, the ultra-shiny formula delivers the perfect pop of gloss without feeling sticky or tacky. For those looking for a classic, well-reviewed gloss that is sure to draw attention, Lancome Juicy Tubes are a great option. 

FENTY by Rihanna Gloss Bomb Luminizer
These FENTY glosses offer a sexy shine and a moisturizing formula. The range of colors was made with diversity in mind, so people of every skin tone will be able to find a shade that best suits them. Each of the six FENTY by Rihanna Gloss Bomb Luminizer shades has the same distinctive High Gloss Finish and is peach and vanilla flavored for an added bonus. It has overwhelmingly positive reviews, making it a solid choice. 
MAC Lipglass 
This limited edition MAC Lipglass line offers five unique holiday shades. Its glassy shine mixed with its super-pigmented formula makes it a great choice to wear on its own, or choose the translucent shade to add a gorgeous sheen to another lip color. The doe-foot applicator ensures that this gloss is easy to apply, and its conditioning effect smooth and moisturizes the lips all day long. You will want to get this product before the end of the holiday season- you won't want to miss your chance. 
Lime Crime Extra Poppin Lip Gloss
This gloss line by Lime Crime Delivers an ultra-shiny, almost "juicy" look to the lips. It's a clear lip gloss, which means that it will leave your lips looking so glossy they may even look "dripping wet," as the company claims. This line offers a multitude of translucent colors, each one packing a punch in terms of its gloss. To give even more variety, choose between a sparkly or iridescent gloss. The formula is non-sticky, lightweight, and super hydrating, so your lips won't be left feeling cakey or cracked. What's more the brand is totally cruelty-free and prides itself on being certified vegan, so you can feel good about the Lime Crime Extra Poppin Lip Gloss you're buying.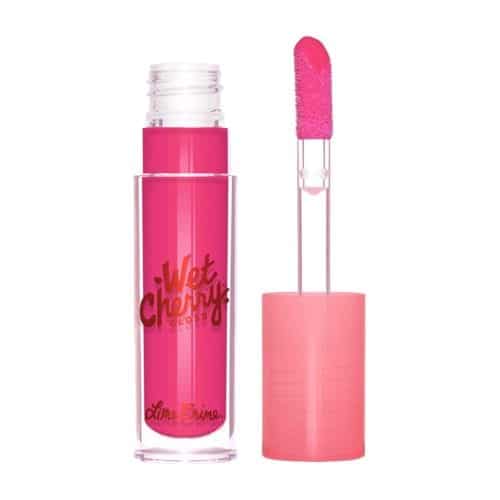 After reading the list above, hopefully, you feel less overwhelmed trying to find your next lip gloss. Each gloss above is a high quality, high shine choice, so you don't have to worry about spending money on a disappointing product. We hope that you are inspired by these Best Shiny Lip Glosses. Happy shopping!